Hey guys,
As some of you may know I'm an author—three novels, three collections, 150 stories published, alongside Stephen King four times (in magazines and anthologies), ran a small press and a magazine, edited four anthologies, and have been nominated for a Bram Stoker, Shirley Jackson, and Thriller Award.
Here's my Amazon profile
.
I'm also teaching fiction classes online. If you know of anyone that might be interested, please refer them to
THIS LINK
.
AND...I have a referral program, that pays YOU cash OR class credit.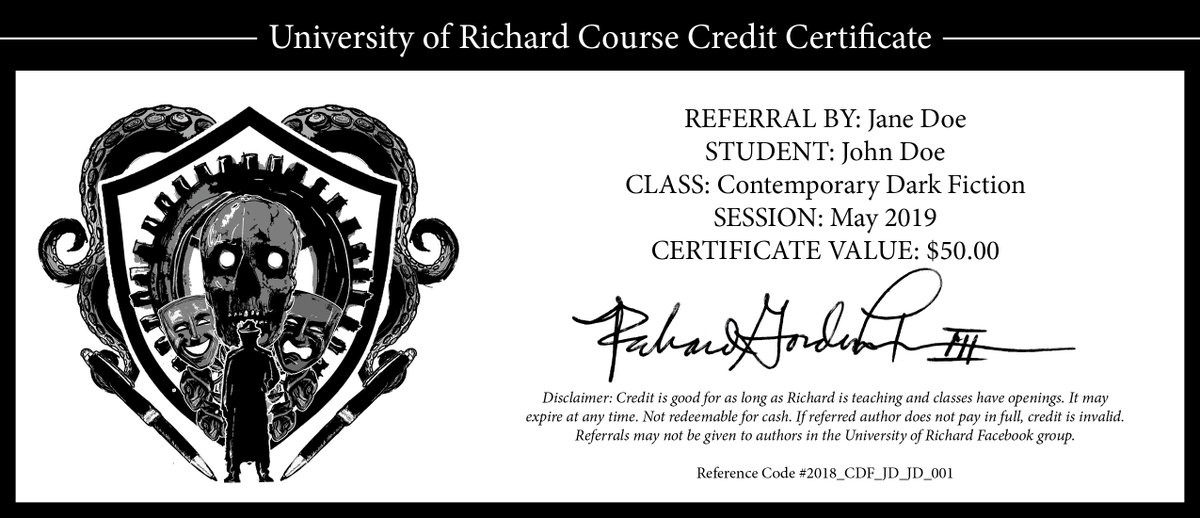 Shoot me any questions to writingwithrichard@gmail.com.
Thanks,
Richard
D3: QB—Allen, Roethlisberger, Rudolph, TRUBISKY; RB—COHEN, Gore, HENRY, HOWARD, McGuire, Samuels; WR—Amendola, Chark, Gallup, LANDRY, MILLER, Reynolds, Sutton, THOMAS, Washington; TE—BURTON, Hurst, Shaheen; PK—ZUERLEIN; DEF—RAVENS. // D4: QB—Fitzpatrick, Rudolph, WATSON, Winston; RB—COHEN, CONNER, Edmonds, HOWARD, Jackson, Samuels; WR—ALLEN, Amendola, Cain, Chark, Dorsett, GOLLADAY, Harris, HILL, JEFFERY, MILLER, Perriman, Williams; TE—Gesicki, McDonald, OLSEN, Watson; PK—GOSTKOWSKI; DEF—RAMS.